Dear WHIPS!
With our anniversary squadnight starting in a few hours we as well thought it is time to give WHIPS a new layout!
We no longer wanted to have the ultimate boring white & blue standard look of our beloved phpbb [standard] forums. Everyone does that! So it was time for a change!
In fact, Syd and I were only trying to integrate a picture gallery into phpbb so you guys would have it easier to deal with in-game screenshots. But unfortunately there in fact was only one useful extension for phpbb which surprisingly does not support .bmp files [which is the standard output of a WWIIOL screenshot]. Thankfully we ran into that issue because it has lead us right here, to what you see right now.
We have decided to setup a completely new website with WordPress. Not only that but we as well tried to integrate [bridge] WordPress with phpbb as we wanted to keep the forums as our main communication platform. WordPress brings us the flexibility we did not have with phpbb.
Please take the time to explore our new home!
Easy connect to teamspeak! [Teamspeak3 has to be installed though]
Check out the sidebar: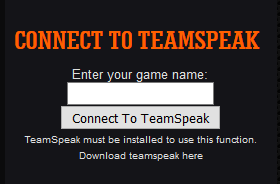 All you need to do is to enter a nickname [WWIIOL game name] and hit "Connect to TeamSpeak" and you end up directly in WHIPS main TS lobby. As most senior players have setup their TS3 already, this gimmick is supposed to help new people, greentags, to find us easily. Just direct them to whips-bge.com to have them connect directly to our TS channel!
To recognize that people connected via this feature, their name tag automatically is going to look like
[WHIPS guest] NickName
Utilize our new Gallery!
No way you are going to miss that one. It is in the main menu! Upload your screenshots here and link them to your post in the forums! [You have to log onto the forums first to be able to upload pictures]
We will be looking into a private gallery as well. Idea behind that is that every user can maintain and manage his own gallery. Furthermore we want to look into video gallery options as well.
Please note:
With the migration we unfortunately seem to have lost the files which were posted as attachments. The reason for that is that phpbb is encrypting those files automatically. The files are still there but right now they cannot be decrypted. I will look into it.
Show your appreciation, please!
I want to highlight that Syd went above and beyond with our little project here. We spent the past 4 to 6 weeks to prepare for this moment. Many hours have been put into this, both of us learned a lot while working on the site. Syd worked hard on the layout and design. While he was not only doing the layout of the wordpress site, he as well incoperated the wordpress layout into our forums so we share the same look. While I still have no clue about CSS, he seems to have mastered it by now. Thank you very much, Syd! It wouldn't have been possible without you!
I as well want to thank Voro as well, who did early QA testings for us. Her feedback was important and it helped us a lot in quite a lot occasions.
Known Issues
lost access to phpbb attachments because files are encrypted [looking into it]
URLs are shown in pink [leftover from some investigation work by Syd or I missed a CSS file, will be changed]
Links to internal forums posts / threads are not working anymore. That's because we had to change the folder structure of the website. The target still exists though. Example: http://acceptance.whips-bge.com/viewtopic.php?f=29&t=629 will get you a 404 – not found. If you have to read up on the thread / post because your life depends on it, just add a /forums after whips-bge.com: http://acceptance.whips-bge.com/forums/viewtopic.php?f=29&t=629
Last but not least…
Kick ass!
At our anniversary squadnight, which is starting in a few hours! I hope to see first screenshots in our Gallery 🙂
bb